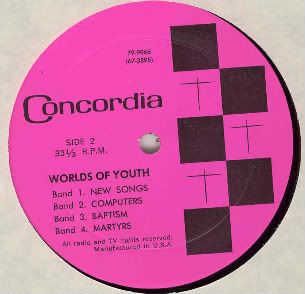 Always loved these kind of lps. Christians trying to be hip ! I wish I had a hundred of these kinds of lps.
John Rydgren (R.I.P) was a preacher that was from the NW . He preached here in Tacoma for a bit & also was a DJ.He was "Brother Love" on WABC In New York. Anyway he's done other Lps "Silouette Segments " is the lp he's known for. Its been reissued.
This is his second lp(?) "Worlds Of Youth"
There's more info on him on the internet & I'm pretty sure his son runs some kind of website about him.
Anyway dig -
New Songs( New Song, Guitar)
http://www.box.net/shared/52my3u0889
A.W.O.L of Life
http://www.box.net/shared/op1lfar7h8