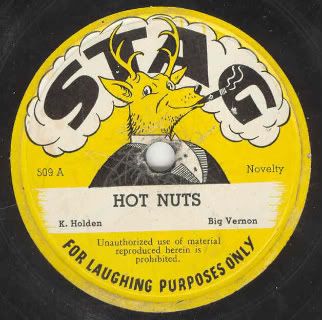 Hot Nuts
http://www.box.net/shared/adgbeagfst
Steady Grinder
http://www.box.net/shared/3thc4y7zy8
What a label ! Not sure who this is . This is almost the last of my 78's. Comments are most appreciated.
Later
Mr Ed
Here's what I got from the internet for this record-
BIG VERNON
Joseph Vernon Turner born May 18, 1911 in Kansas City. Blues shouter known as "Big Joe "Turner died in Los Angeles Nov. 24, 1985.
--as Big Vernon with K. Holden [Pete Johnson-piano born Kansas City, March 24, 1904 died in Buffalo, NY March 23, 1967]. San Francisco ca. late 1947.
Around The Clock Blues Pt. 1 STAG 508-A
Around The Clock Blues Pt. 2 STAG 508-B
Hot Nuts STAG 509-A
Steady Grinder STAG 509-B