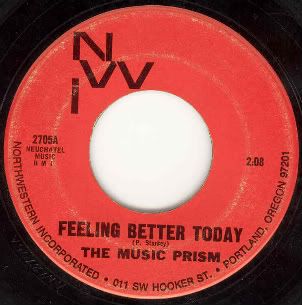 Oregon group "The Music Prism"
Feeling Better Today
http://www.box.net/shared/7qqdtjtpjx
Well I could be feeling better today but here's a bunch of records for your listening pleasure. I've added a new link for the James & the Bondsmen "Look What Your Doing " file. Also added the link to "Mister Soul". I've added the B-side to Willie Harper's "A Certain Girl" , sorry it's through rapidshare but box net would not upload the song.Added the music lik to tennyson stephens"rain rain rain". Wondered why nobody downloaded the song. How bout sending in some comments. Yeah i like to get them . If you can spend the time downloading these you can ad a cooment too.
We'll see what tomorrow brings
Later
MR ED