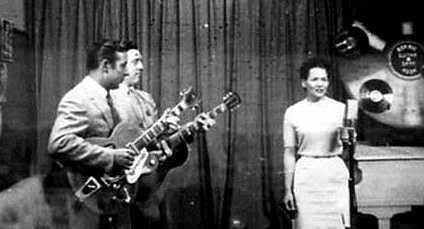 Here's a rare treat for you. Tracks from Grover Jackson's Party Time TV show, Tacoma Wa circa 1959.
Some nice rockabilly from Randy Wood especially the track Moshi Moshi amongst others here.
Don't expect hi fi quality here . These were recorded off the TV !
More posts coming soon !!
Comments are most welcome & appreciated . Its been a rough couple of weeks for me personally so comments would be nice.
Bull Dog
http://www.box.net/shared/blv4u0l6oc
Fujiyama Momma/ MONEY HONEY (Carol Anne) Vocal
http://www.box.net/shared/94y7qzh81t
Guitar Boogie Shuffle
http://www.box.net/shared/b9l6xbk3c3
Moshi Moshi
http://www.box.net/shared/mv38ie4h4x
I'm Movin' On
http://www.box.net/shared/y5nyiiqapn
Hey Hey Hey
http://www.box.net/shared/uicbhfcs5l
Unknown Instrumental
http://www.box.net/shared/zauiuxeeg6
Your Left She's Right I'm Gone
http://www.box.net/shared/uicbhfcs5l