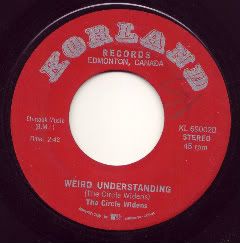 Here's a couple more 45's from Edmonton
Circle Widens- Actually this group is from St Albert which basically is a suburb of Edmonton. The A side stinks, its a folky song with a female singer singing about lent.
Weird Understanding- http://www.box.net/shared/nddgg7rg3s
The Lords - One of the bigger Edmonton groups . they had a couple (?) more 45s &a few songs on the "Live at the Rainbow ballroom lp" On the Pace label which also had the King Beezzz -Gloria & Mary Saxton.
Dirt beneath my feet-http://www.box.net/shared/6uasf5p9na