Roy Penney- In Teensville Arc lp 662
Three nice instrumentals for you from the Carl Smith Show's featured guitarist.
the rest of the group is Mickey McGiven rhythy guitar/ Mark McGiven bass/ Bill Bartlet drums.
Slinky- http://www.box.net/shared/aj4ahlut0v
Sweetie baby- http://www.box.net/shared/gu5xpr8if9
Galloping guitar-http://www.box.net/shared/x6ietr4i2h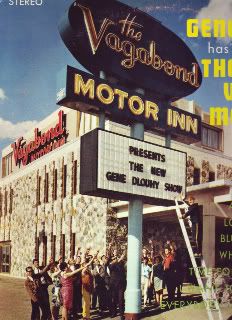 Gene Dhouhy -Has them cheering at The Vagabond Motor Inn Dosco lp 1441
This group was from Saskatewan. Anyway i've only picked one song from here "What's New Babe" which sort of reminds me of something Jr Walker would record. The rest of the lp has standards- like Long tall texan, Blue Spanish eyes & a long history of music song that starts with nic o lo doen & ends with She loves you.
more info here- http://www.myspace.com/genedlouhy
song link- http://www.box.net/shared/q3p6oq2xd4