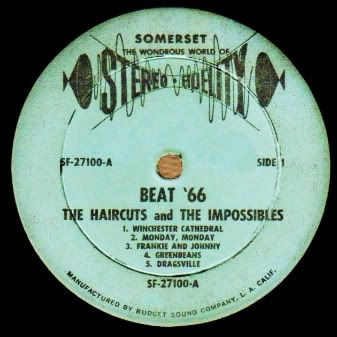 Got This email from Kurt L from NY .
Anyway if there's something you'd like to post here let me know.
Here's his email-
This track is supposed to be from an Alvino Rey session for Somerset's "The Guitar and It's Family Around The World" LP (SF-27000), and has appeared on numerous other Somerset budget LPs including "Here's Where It's At -- Beat '66 with The Haircuts and The Impossibles" (SF-27100). As far as I know, it's always entitled "Greenbeans" (a published arrangement of "Greensleeves" so that the owner of Somerset could make more money).
It could be a little faster, but I think it's one of the best Ventures tracks that The Ventures never did.
Greenbeans
http://www.box.net/shared/2yzsedta5k